« Hot, Hot, Hot! Chili Ristras! (8x10 watercolor southwest landscape) | Main | "Ristras de Taos," 8 x 10 watercolor landscape »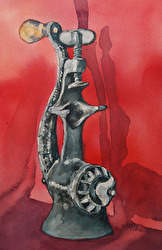 This heavy but serviceable antique once belonged to my paternal grandmother (Mamah). It has and still does grind meats for my family. To purchase this painting, please click here.
MEAT SPREAD
1. Slow-cook a nice sized roast (chuck, rump....your choice) in a crock-pot.
2. Enjoy that meal and the next day....... grind the left-over meat, sweet pickles, one chopped onion, and about 6 (peeled) hard-boiled eggs in the grinder.
3. Add a little mayonaise and spread on a cracker for a scrumptious snack!
A little VIDEO for your enjoyment: Art in the Making..................
SCROLL DOWN TO LEAVE COMMENTS.
Topics:
family favorite recipes
|
FREE VIDEO
|
How to---
|
Loving Memories
|
step by step lessons
|
STILL LIFE
Comments
1 Response to Antique Meat Grinder, 8 x 10 watercolor stillife
Marsha T
via donnapierceclark.com26 months ago
The meat grinder is so well done. I remember ours intimately, and yours is just like it. I also love the background, where the paint runs and eddies just a bit near the bottom. That sort of thing makes it look like a painting, not just a stark rendering of what's there. It surprises me to see that that effect can be achieved by a touch in the background, that it doesn't have to be in the main object.
* indicates a required field