Blog
« Sunlit Lavender Iris, 11 x 12" floral watercolor on paper | Main | "Like a Tree Planted by Living Waters," 5 x 7" landscape, acrylic on gesso panel »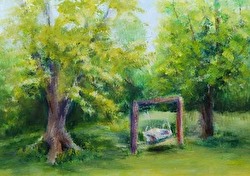 Who doesn't love the old-fashioned backyard swing under the trees?
For the final day of our workshop, we met at Ruth Ann's in Lima, for a much appreciated lunch (with home made chocolate cookies!); then, we did one more painting in her beautifully landscaped yard. This area was at the farthest back corner, behind the pool. I like to isolate myself, where it is free from the Paparazzi!!! And, I like workshops in that they "make me" set aside lots of time to paint. Thanks again, Ruth Ann!!
SCROLL DOWN TO LEAVE COMMENTS.
---
---
Comments