« Hoberty's Creek, 10 x 8" acrylic landscape | Main | "She Wore a Yellow Ribbon," 15 x 11" watercolor portrait »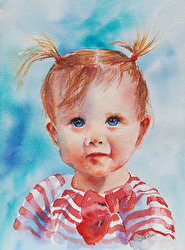 I dearly love doing portraits.
This little girl is a friend's niece.
If you are interested in having me do a portrait of a loved one, please use the CONTACT THE ARTIST button at left.
SCROLL DOWN TO LEAVE COMMENTS.
Comments
1 Response to Little Girl, 15 x 11" watercolor portrait
Rosalind Burr
via donnapierceclark.com17 months ago
Wow, Donna, so well done. What a precious little girl! And you have done such an excellent job portraying her sweetness. Whatever you learned at your portrait workshop certainly came across in this lovely painting.
* indicates a required field