Blog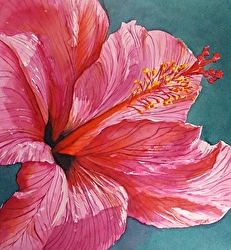 Andrew Wyeth's Studio in Chadd's Ford, PA, was undeniably, one of the most awe-inspiring places I have visited. You may think I am joking, but I am serious when I say that this studio was more inspiring to me than the Grand Canyon. Yep. That's how much I loved it. Here are a few photos of his Chadd's Ford home and studio. First, the STUDIO ENTRANCE, upon which reads the sign: I AM WORKING SO PLEASE DO NOT DISTURB. I do not give autographs.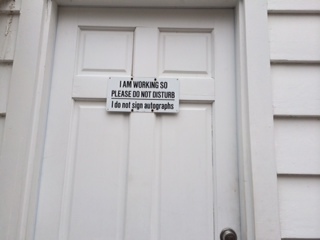 *
INSIDE THE STUDIO: Andrew Wyeth's full length mirror by his north facing window, through which you can see his easel, with a painting of a dog he desperately wanted to rescue from his chains, but he could not. The story goes that Andrew pleaded with the owner, but to no avail. The poor animal suffered, then was killed by the owner. Many sadnesses and hardships seemed to accompany the Wyeth family. But, there were joys as well. There are many books written about this multi-generational family of artists and they are so worth the read! The palette in the left lower corner of this photo is unique and had several wells for his tempera paints. On the window sill are his dry pigments for mixing his tempera paints. He is known for his awe-inspiring watercolors, but switched to tempera when his father, his mentor, was killed in a tragic train accident near the Chadd's Ford grounds, in 1945.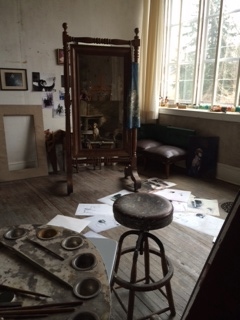 *
The floor of the studio, studies strewn about. I've never met a neat artist! Hope I never do!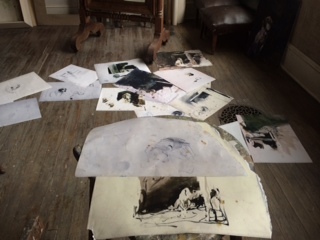 *
Also, of great interest to me, the Wyeth library. This room is across the hall from the studio, and houses reference books of other artists' works, huge reels of film, the many books that Andrew's father, N.C. Wyeth, illustrated, toy soldiers, and much more. An artist leaves a legacy of excitement and energy. If allowed, I could have spent hours upon hours in that library!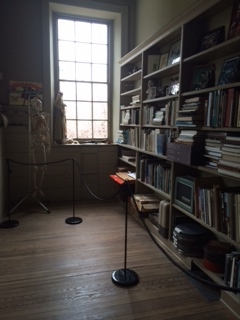 Andrew Wyeth, Chadd's Ford, PA
******************************************
Thought you would like to watch Pink Hibiscus, Looking Up! being created:
---
---
---
---
---
---
---
---
---
---