Blog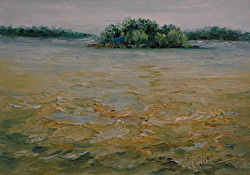 The winds were strong today on Indian Lake. The easel even blew over! Everything went flying!
Business cards scattered in the wind, the water to clean the brushes totally dumped out, and the easel parts were a little skewed (not bent, not broken, just a little out of place). The Ampersand panel was covered in mud, but I was undaunted. With the help of loved ones (our son and daughter-in-law accompanied us today!) "Father's Day" celebration), we picked it all up, wiped off the panel, and started painting! In the photo below, you can see my sweetheart fishing and my easel (just before that strong wind dumped it all over!) Even though the waters churned with pontoons, speed boats and ski-dos; Dennis still caught catfish today! Yum!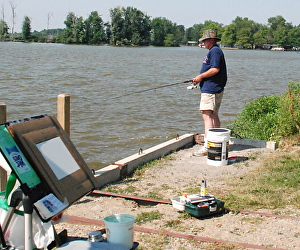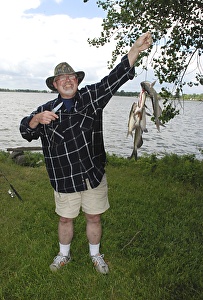 Dinner! To see this larger, please click here.
---
---
---
---
---
---
---
---
---
---
---
---
---
---
---
---
---
---
---
---
---
---
---
---
---