Blog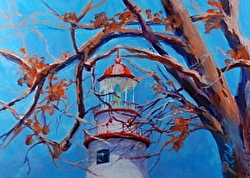 Today's painting,
"Beacon of Light, Marblehead,"
is of just the top part of the Marblehead lighthouse.   The more I paint these, the more excited I am getting about returning there in July.   This is painted from a photo.   In July the paintings will be done on site, in the warm summer sun!
For more details (or to Enlarge), please
CLICK HERE
MY COLLECTOR WALL!!!!
 A few weeks ago, I received a beautiful 11 x 14 inch original oil painting by Mick McGinty.  Oh!  It had that wonderful smell of fresh wet oils!!   And, of course, the painting was splendid!   I have a wall that is set aside just for fellow artist's work.   Looking at them inspires me and  lifts me into another world.   I am daily blessed with master brush strokes and color mixtures.   Actually, I have two walls for these luscious jewels.  Here you see one of my Collector Walls in the dining room where I paint my weekly paintings.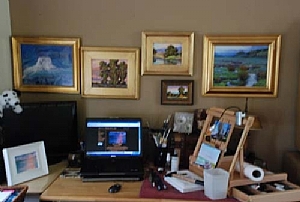 My Second Collector Wall is reserved for and is in the basement studio where I work on larger paintings.   I'm getting so I dislike prints and like original work more and more.   Sure, we all can go to Walmart or Hobby Lobby and get a cheapo print on thin paper of some master, and put it in a beautiful frame to match the furniture; but unfortunately, in my humble opinion, this really cheapens the glory of an original.  Please consider the "other option" of owning an original work of art to grace your home.  You don't need an entire wall, but it is a fabulous experience to have one!!
---
---
---
---