Blog
Welcome to another critique. Thank you for volunteering, Phil!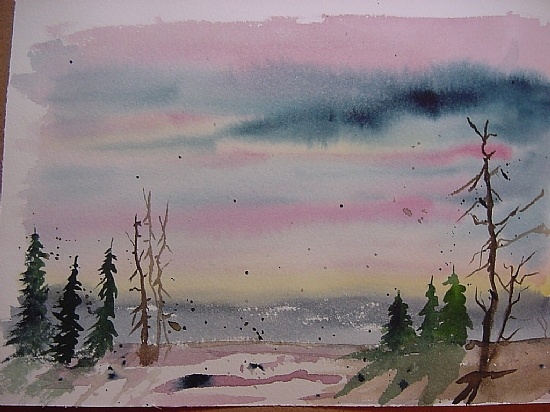 "Backlit Pines" © Phil Jones
Positive-
-luscious colors and shadows! I love the way the green shadow on the left overlaps the pinkish ground/sand.
-Am I seeing a shimmering body of water in the background? And sun coming from background (referred to as "backlighting"). Nicely handled backlighting on your part!
-Beautiful colors in that sky!
-As far as the "composition" goes, I like the low horizon line (hi or low is always better than in the middle).
-Nice handling of the trees, nice variety of types of trees.
-Nice green colors in the trees and the shadows.
-Good aerial perspective: All is very loose, good job! And, there is just a little bit of detail in the bare tree limbs and the darker pines to bring them to the forefront.
Suggestion-
-Too much symmetry (ie, 3 pine trees, 2 bare trees....middle space...3 pine trees, 2 bare trees). You need a more asymmetric design for this area.
---
---
---
---
---
---